See, by making the design completely generic, and don't kid yourself, that's what they intended and got, they ensured that no one could look at another tablet without thinking of theirs.
Devin Coldewey at TechCrunch, being absolutely wrong as he takes up the argument of one of those anti-Apple dudes, who tries to argue that Apple didn't design their tablet. 
Basically, both say Apple's designs are meant to be so generic, you can't help but rip them off when designing a competing product. 
He's wrong, three times over:
1) Rather than "undesigning" a tablet, Apple created a design that matched the design of their iPhone and iPod touch (and to a lesser degree, the screen of their MacBooks).
Much like Sony creates a certain look for their televisions and Lamborghini designs a certain appearance for their cars, Apple designs products that look like each other. You can't look at an iPad and not know it's related to a family of Apple offerings. 
2) You need only look at what tablets were before the iPad to see that other form factors were possible: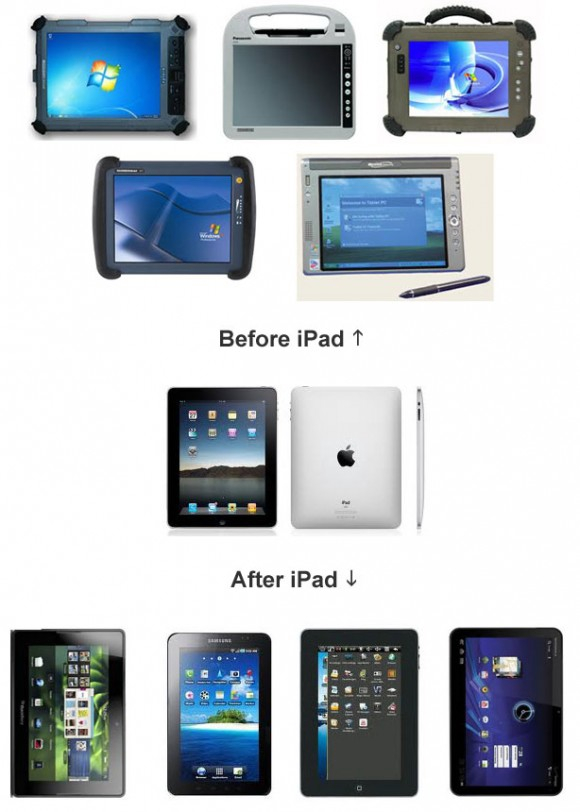 3) The look of iStuff is not platonically generic: It's designed. And the design of the iPad was lifted, element by element, by Samsung — down to the rounded corners, bezel, aluminum body… not to mention the UI. See some pics here. 
1 Notes/ Hide
allupright posted this